Disney, the happiest place on Earth. We have been 4 times in 10 years. With the new changes to Disney's disability system, we have been wrestling with the idea of going back. We finally decided to try it out and I can honestly say, we were really disappointed. And good luck if you have more than one kid with a disability. Then it becomes completely confusing with the guest services splitting our family on 2 bands employee saying "we don't want you to double dip". Yes, those words were used. Bad form Disney. Really bad form.
The "New" Current Disability Passes
The Process: You get one "disability" assistance pass at any one time. All it gives you is a 10 min less than the current fastpass time (sometimes upwards of 90 min). There are employees with machines at the fastpass lines that scan your kids band and then give you a return time.
The Reality: As many parents of autistic kids will tell you, waiting in long lines is not something they can do. They don't understand why they just saw the ride and you have to come back in 40 minutes. They have no concept of time and aren't blinded by the rest of the magic of the disney park. They are too focused on that one ride they want. So, now you have to spend the next 40 minutes trying to get them to calm down and relax.
Tip: If you do go, bring enough chargers for ipads/ipods to keep them occupied during the 40-60 minute wait times.
The Previous Program:
You use to go in the back way and they could just get on the rides. If your kid only wanted to ride a single ride they could.
Disney has not done their research on what most autistic kids need. Usually, it's the same ride over and over or the same couple of rides over and over. But there are differences in how autism expresses itself in each child.
Disney's Response:
During day 1, after about 4 hours, and after having to take one kid back to the hotel, I went to the guest relations area to discuss and ask if there was anything else they could do. The answer was no. I did however get a card where I could file a formal complaint (they wouldn't take a formal complaint at the park).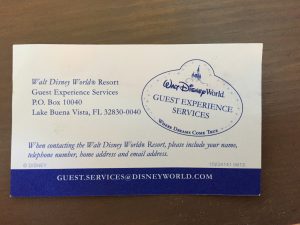 I called and they did call me back but I have not had a chance to return that voicemail yet. I will post the response after I speak to them.
Suggestions: Disney, give some options for kids with different needs. Not all autistic children are created equal. Maybe give an option to select a 2-3 "always available" rides in each park or no more than a 10 minute wait on any ride. Most of these children have no concept of time and they physically can't wait. It is emotionally incapacitating to them.
Require and enforce medical documentation and force a parent to be with them on the rides.
If a parent doesn't want to supply the necessary info, then they don't need the passes.
---
Aside from being completely confused and frustrated with the whole process, it was a hard week of having to split time with one parent in the park, one in the hotel. Wouldn't barely call it a family vacation. It was a week of stress and constant planning around having a single disability pass with 3 other normal fastpass selections (which require you to find a kiosk and only select 1 at a time). There were moments we really enjoyed like when a parade was going on and certain lines at some of the rides were 5 minutes or during the Mickey's Halloween Party Parade. They really enjoyed that but it was only a brief time of the entire trip.